Description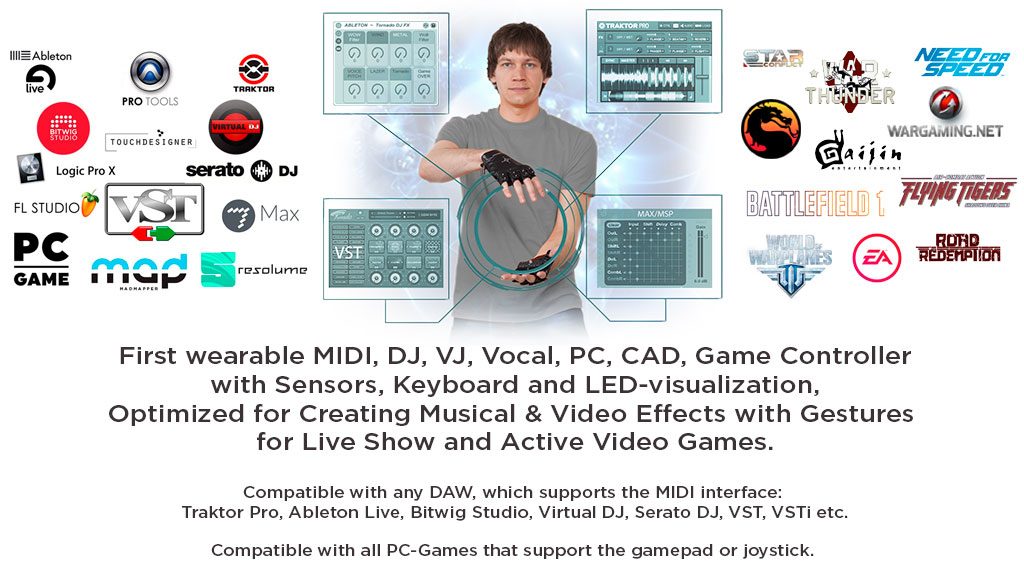 Tornado is a multifunctional wireless motion controller designed in a form of a glove. It combines functions of MIDI controller, game controller and a manipulation function such as "mouse". With hand motions, you may create various musical effects, play synth, control your vocal while singing, play games and manage visual patterns.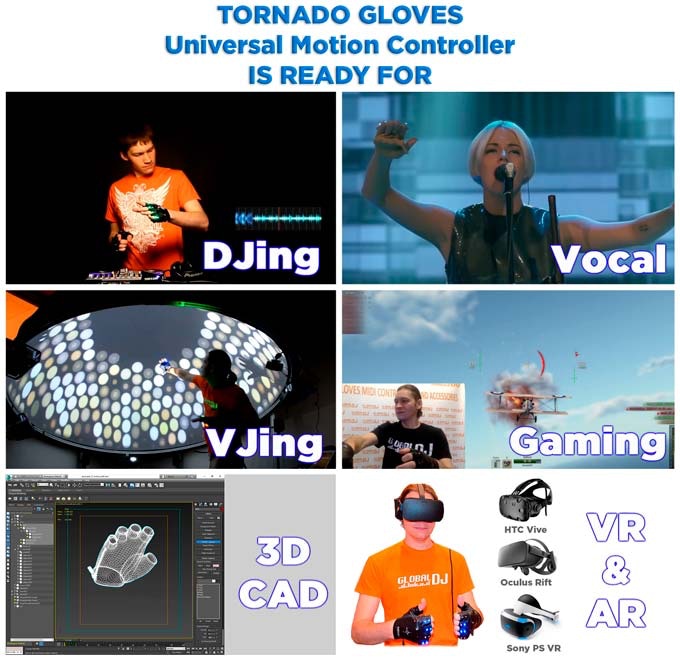 Tornado is optimized for:
1. DJing. Make music-by-motion experience unlike any other! Be closer to fans, catch their attention and excite them. So not only you will hear your music — you'll feel it. Create effects while dancing!
2. Vocal. Control your vocals with gestures during a live performance. Magic Tornado gloves are vocal processor and effector directly on your hands. This is especially interesting for karaoke systems. Inspire your audience!
3. VJing. Create imagery and visuals in real-time by motions of the Tornado gloves. Perform processing of visual material and move around the stage, simultaneously communicate with the audience. Bring in a story of your music to the light show!
4. Gaming. Play games using Tornado mobile controller. It is very comfortable, you can move around the room or lie on the couch. Especially, the gloves advantage appears when using the 3D glasses and helmets. Since, in this case, a classic keyboard is not visible, Tornado gloves can help you and they will be in your hands.
5. 3D CAD. Control 3D objects in your 3D Studios!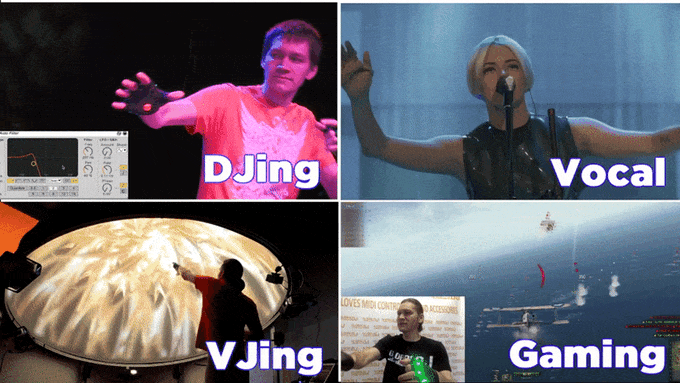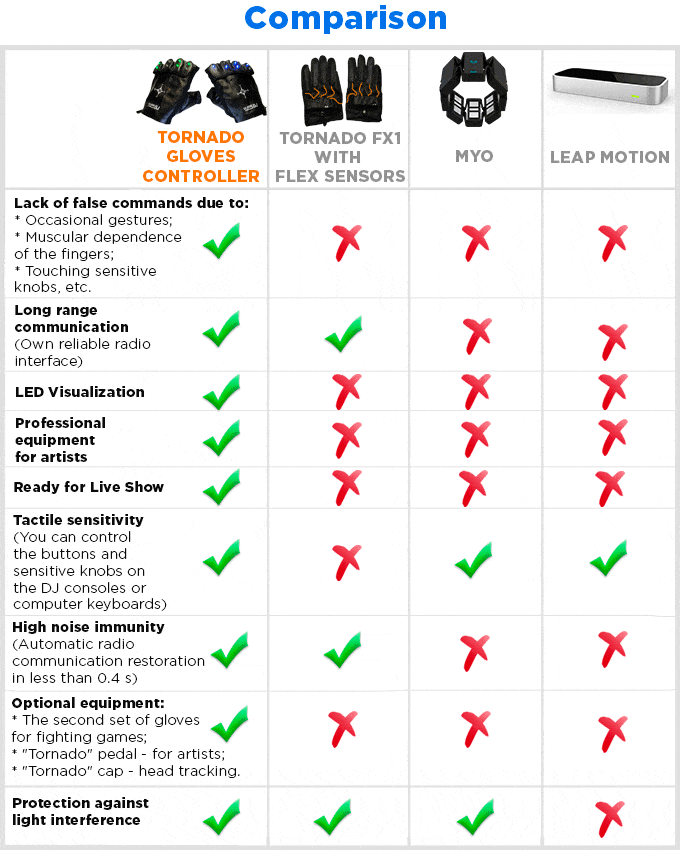 Advantages of Tornado:
1. Own reliable radio interface: during the show, you can easily turn off Wi-Fi and Bluetooth on the laptop and decrease the CPU load. Tornado operates independently of external Wi-Fi, Bluetooth, ZigBee and other ISM radio devices of 2.4 GHz band.
2. Fast response time and high mobility: Tornado gloves considerably surpass the analogous parameters of the gesture recognition by optical systems – such characteristics of Tornado gloves are beyond the capabilities of the optical systems.
3. No complicated programming! You don't have to deal with MIDI mapping – we did our best for you. Operation of the Tornado plug-in is implemented by means of presets. You just have to load the selected preset and everything will be ready for creating musical effects or playing games.
4. We have developed around 100 vivid effects for live performances. Also, in the "Expert" mode, you can create presets for your own unforgettable effects.
5. Graphic MIDI Mapping. Tornado allows you to control multiple parameters of the music studio or plug-in according to individual dependence functions (individual MIDI Maps) by one gesture. Customized for each parameter MIDI Maps are drawn in a special graphical editor.
6. Tornado have a multifunctional keyboard on both palms. Handy buttons are located directly under each finger. The keyboard is meant for quick sending of commands without unnecessary motions and gestures.
7. 3D-sensors are made on both gloves, that's why you will be able to create several musical effects simultaneously or to control several parameters of one effect using two hands.
8. Gloves have LED Visual Feedback. The Visual Feedback is activated automatically at the moment of creation of musical effects. Thereby it helps to attract the attention of the audience at the right time.
9. The gloves are made of high-quality genuine leather with a ventilation system. Due to a zipper, the gloves can be easily put on and taken off even after continuous use.
10. Tornado can be quickly connected to any musical or video studio, which supports the MIDI interface: Traktor Pro, Ableton Live, Logic Pro, Max/MSP, Bitwig Studio, FL Studio, Deckadance, Virtual DJ, Serato DJ, VST, VSTi, Pro Tools, Resolume, TouchDesigner, MadMapper, etc. Also, Tornado controller is compatible with all PC games that support the gamepad.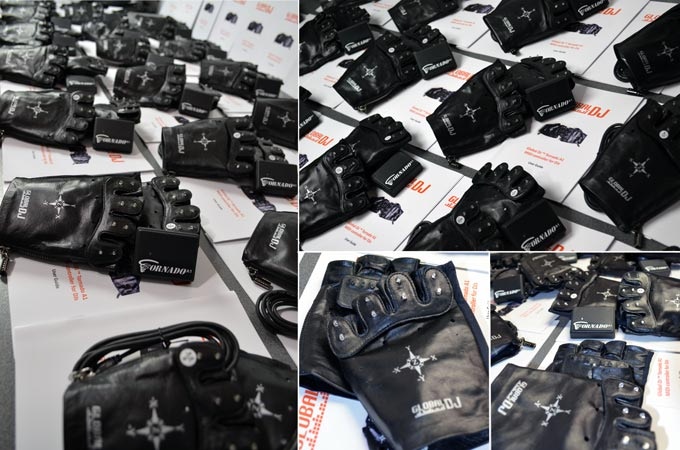 Tornado is a Wireless MIDI controller that gives you a possibility to demonstrate incredible musical effects without touching the equipment during Live Shows. Tornado Gloves are developed specifically for creation of vivid, unforgettable Live Shows. New MIDI Controller allows you to create sound effects using gestures visually and effectively for the audience. It is very easy to perform with Tornado gloves.
Creating music like never before!
***
Wireless 3D-Gloves, DJ MIDI controller for creation and visualization of musical effects using hand movements without touching to equipment.
First wearable MIDI, DJ, Vocal, PC, CAD, Game Controller with Sensors, Keyboard and LED-visualization, Optimized for Creating Misical & Video Effects with Gestures for Live Show and Active Video Games.
1. Сreate Musical Effects using Hand Movements!
2. Visualize the Music!
3. Make a Live Show!
4. 3D-Sensors + Keyboard.
5. Traktor & Graphic MIDI Mapping
6. Easy to use and Good-looking.
Global  DJ  Tornado  A1  is a  professional  MIDI  controller intended for creation and visualization of musical effects by means of hand motions, without touching the equipment. It gives the possibility to control parameters of virtual music synthesizers and effects in a visual way in the public eye and thus to create a spectacular live show.
Tornado  A1 strengthens DJ's contact with dancing people, helps to create a good mood. Tornado A1 is the system that transforms parameters of hand motions by means of the MEMS technology in accordance with flexible algorithms and methods of the Motion Capture theory into MIDI control signals.
Tornado A1 wireless gloves are the main component of the Global DJ MIDI controller.  Gloves are equipped with a  convenient multifunctional multilevel  MIDI  keyboard attached to the backside.  Various  MIDI commands can be sent through use of one button.
The  MIDI  controller can be connected to the laptop/PC  through the  USB and therefore to various virtual music studios and players (Traktor 2 Pro, Ableton Live, FL Studio, VST plug-ins, Deckadance, Virtual DJ, etc.).
Global DJ Tornado A1 is the system that transforms parameters of hand motions by means of the  MEMS  technology in accordance with flexible algorithms and methods of the  Motion  Capture theory into  MIDI  control signals.
Certain technical parameters of Tornado A1
– A low requirement to laptop performance.
– Short delay for MIDI messages, 20 ms max.
– USB interface.
– Radio frequency range: 2.4 GHz.
– Radiation power: 1-10 dBm.
– Integrated antennas.
– Operating range: 5-10 m.
– Low power consumption for sensors. The controller 's uninterrupted operation time is app. 5-6 hours when using small-size LiPol batteries.
– High interference immunity and operating reliability.
– Embedded protection against a generation of false MIDI control signals.
Basic advantages of Tornado A1
– Stylish and good-looking.
– Easy to use and practicable.
– Small-sized sensors.
– New flexible methods in parameter controlling of virtual musical studios.
– Perfect integration into such musical studios as Traktor 2 Pro and Ableton Live.
– High reliability.
– A multifunction keyboard on the gloves.
– Light follow-up of effects (dependence of color on angle or turn, etc.).
– User-friendly and intuitive software interface.